Someone Thinking of You
2020
silkscreen ink, graphite and acrylic on hand-dyed paper

9 prints, five unique editions + suplimanetal drawings, 56 works in series

Someone Thinking of You reproduces segments of an unpublished erotica manuscript I wrote in 2017 commissioned as part of a series of all female-authored erotic fiction. Originally envisioned as a political revenge fantasy and subsequently edited into a cryptocurrency thriller, the manuscript is shown in its third iteration and contains both my writing (typed) and the publisher's edits (handwritten)—himself an artist. Through redaction, overwritng, and questions of what is permissible, the work serves as a container to consider hierarchies of power, gender, and authorship. Five unique editions make up the series. Each contains 9 prints: one print for each of the book's six chapters, the cover, the protagonist's backstory, and appendix drawings.




Cover, 2020, silkscreen ink, acrylic, dye on paper, 63 x 42 inches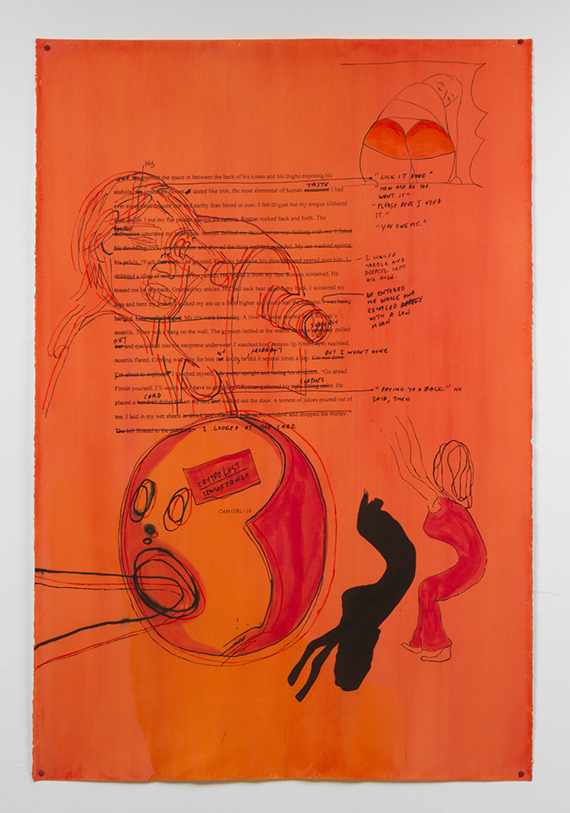 Chapter 1, 2020, silkscreen ink, acrylic, dye on paper, 63 x 42 inches



About the Author, 2020, silkscreen ink, acrylic, dye on paper, 63 x 42 inches




Chapter 5, 2020, silkscreen ink, acrylic, dye on paper, 63 x 42 inches
Chapter 6, 2020, silkscreen ink, acrylic, dye on paper, 63 x 42 inches